This site is about orgone energy, the orgone generator®, orgonite®, and how you can use this amazing new invention that generates orgone energy. Once familiar with this extremely powerful new technology, you can take your life into the best possible hands, which are your own.
Once you will have become familiar with the basic principles of this primordial energy, orgone, with its characteristics and with the resulting technologies, which combine then newest inventions and a new understanding of ancient methods that have been practiced successfully by humans for tens of thousands of years, you can begin to apply the generated orgone energy towards achieving positive permanent change in practically all aspects of your life.
Click Here for the next video: A brief history of life force, or orgone energy
Throughout history, humans have used orgone energy for many purposes. This use of orgone energy, was always the result of practical experience.
We can safely assume that early humans felt orgone energy, just as most humans of our days can feel it, once they have been made aware of its existence. In many cultures, humans also noticed that orgone energy can be directed. The practices of yoga and Chi Gong emerged from such knowledge. Some people realized that it was this life energy, which Wilhelm Reich called orgone, which was the "motor" of anything that is called "paranormal" in our otherwise "enlightened" times. In fact, nothing that is the result of appplied orgone energy is "para" (beyond) normal. In fact, after our research, we can now safely assume that all of these phenomena belong to the natural interaction of humans, if not all living beings that we know of, with their environments. We will show evidence of this point later.
Belonging to the first technologies of humankind, these methods of applying orgone energy naturally became part of humans' religious belief systems, very similar to the use of fire, the making of metals, and natural phenomena, most of which they experienced without understanding their causes. Therefore, much of the time the practical application of orgone energy was linked closely to the religious creed of the culture where it was used. Moreover, whenever an application of orgone energy was successful, such a success was considered to be proof of the religious creed of the practitioner and his or her piety or "righteousness" as many of today's religionists love to call it.
Here I certainly cannot give you a comprehensive history of life force, or orgone energy, just some pointers and ideas of how it has been used. In fact, most of the ancient healing practices, shamanism, religious miracles, special power of priests and their spiritual work, are unthinkable without the use of orgone energy. This is so, because, as I am going to show you later, any action at a distance is based on the use of structural links in combination with orgone energy. In fact, the proof of this fundamental common functional principle of any action at a distance (call it shamanism, spiritual work, healing at a distance, or whatever you like) is extremely simple and you will gain the evidence of this with the orgone energy transfer test and, especially, with the water optimizer test.
This latter test will be a demonstration, direct evidence and proof of the transfer of specific characteristics, not just of orgone energy (life force) itself.
I have mentioned the practices of yoga and Chi gong. In Polynesia, orgone energy was called "mana", in many cultures it was perceived as "psychic power" and as, well, life force.
With the establishment of scientific principles and scientific thinking, many researchers examined the phenomena of orgone energy, and they developed specific theories with which they explained their observations and practical applications.
Click Here for the Next Video: Franz Anton Mesmer and Baron Karl von Reichenbach
One of the earliest scientists who pioneered orgone energy was Franz Anton Mesmer who lived some 200 years ago. Mesmer gave it the label "animal magnetism" and he built the first accumulators of this energy. Since he was a medical doctor, he used his orgone accumulators for healing purposes. His orgone accumulators were wooden barrels, which he filled with iron filings. Without being aware of the actual principles, which made these devices orgone accumulators (Wilhelm Reich established the corresponding theories some 150 years after Mesmer when he built his orgone accumulators that were structurally very similar to Mesmer's barrels), Mesmer succeeded in making very powerful orgone accumulators, and they worked well; His success was likely achieved by trial and error in conjunction with some very intelligent guesses.
Very interesting was the research of Baron Karl von Reichenbach during the first part of the 19th century. Karl von Reichenbach limited himself to describing the observed effects of orgone energy, which he labeled "Od." He secured the help of more than 120 "sensitive persons" who could see and feel orgone energy, and whose descriptions were practically identical. Karl von Reichenbach was careful not to tell them what they were "supposed to see" or feel. While humankind readily accepted his inventions of creosote, formaldehyde and special procedures in manufacturing steel, his research of orgone energy (od) was rejected by the "scientific" community, of course. Like in our enlightened times, this was a community which certainly excelled in making untenable and unprovable statements of a rather creationist nature such as that "the laws of physics are the same everywhere in the universe" -- hmmm - interestingly enough, that ludicrous and totally unprovable assumption is still the "scientific" dogma in our otherwise enlightened times. Let's face it: humans barely left the stratosphere of their own planet - how can some folks claim to know all about the vast universe? - very scientific thinking, indeed!
Von Reichenbach's books certainly are worth reading!
Around 1900, Korschelt succeeded in building a "Solar Ether Radiation Apparatus," which, when analyzed more closely and tested, turned out to be an orgone accumulator. The addition of a battery current turned out to be irrelevant in our experiments with the device. Electricity, during those times, had often the function of being a catch word just as are "quantum mechanics, relativity" and of recent "nanotechnology" in our days: words that are used liberally by marketers of crystal powders and other New-Age products; words that are misdefined to fit their specific products more often than not.
Click Here for the Next Video: Wilhelm Reich
Having been a disciple of Sigmund Freud, Wilhelm Reich examined the physical energy that is released during sexual activity and consequently he discovered that life force, which he called orgone, is this energy. We cannot know how much Mesmer's research and inventions influenced Reich's work. Having studied Hypnosis under Freud, he certainly was thoroughly familiar with Mesmer's work. In fact, in European literature about hypnosis, Mesmer and his accumulators of "animal magnetism" are common knowledge, and Franz Anton Mesmer is mentioned as an important pioneer of hypnosis in practically all introductory works on the subject. Reich may have considered it necessary not to mention Mesmer's name anywhere in his works, because Mesmer was widely considered as having been a quack who promoted "animal magnetism" and even showed how to feel it. Interesting enough, in Reich's works there is also absolutely no mention of Karl von Reichenbach and his research of orgone energy. Reichenbach and his extensive work about life force, which he called "Od," has also been widely known among students of hypnosis in Vienna, where Reich studied under Freud, and hypnosis was one of the subjects he studied.
Coming from an entirely new angle and living in a scientifically more advanced era than his predecessors, Reich was capable to formulate a significantly more modern approach to orgone energy, which was as extensive as the research that Karl von Reichenbach had published. Wilhelm Reich observed orgone energy and used it for many purposes. As a first, he showed that orgone energy followed the principle of reversed entropy, i.e., that the stronger potential of orgone energy is drawing energy from the weaker potential, and he showed how this reversed entropy was the motor of many biological, meteorological and other processes in nature.
Furthermore, Wilhelm Reich was the first person to be aware of the existence of "DOR," or Deadly Orgone energy, as he called it. DOR, according to Reich, is a stale form of orgone energy, which can cause serious health problems in humans. With his Oranur experiment, massive amounts of this DOR developed, which made necessary a temporary abandoning of his facilities and the dismantling of the orgone accumulators in that area.
Although Reich apparently was the first scientist to recognize that orgone energy (life force) follows the principle of reversed entropy, he was entirely unaware of its transfer at any distance. A closer examination of the processes involved in his "cloud busting" techniques (devices for cloudbusting was also an invention by Reich) could have led him to this conclusion, as would have a deeper scientific approach of the characteristic of reversed entropy.
In fact, soon after having started my own research of orgone energy I recognized that the principle or reversed entropy and transfer at any distance, when seen within the space that is defined by electromagnetic energies (the "visual" space), are two modes of expression of one and the same characteristic of life force, just as the principle of entropy and the distance-characteristics of the "visual" space can be viewed as two modes of expression of one and the same principle. Similar to space-time (indicating that these two principles are inseparable), we can hyphenate the term "reversed entropy - transfer at any distance." It would go way beyond the framework of this web site to expound more on this.
I discovered the scientific basis for the transfer of orgone energy at any distance years before I invented the orgone generator® in 1991. Soon after my invention of the orgone generator®, still during the same year and before I began to market the first orgone generators®, I was capable of establishing proof of this transfer by succeeding in a signal transfer from machine-to-machine. Witch doctors or shamans of the old, of course, knew about this and used it in their practices for tens of thousands of years. They needed no scientific proof, since they have had immediate evidence of this characteristic of life force/orgone energy on a daily basis, whenever they did (and still do) their "spiritual" work.
One way of mapping this situation is to view it as being expressed by simple coordinate tranformations: when the space of electromagnetic frequencies is set up as continuous, then the space of orgone energy becomes "choppy," non-continuous, and vice versa. In either case the principle counts that I formulated: the shortest distance between two points in the respective spaces is a structural link (structural link is another term that I coined when referring to life force), and this is as valid for the space of electromagnetic frequencies as it is for the space that is defined by orgone energy.
Click Here for the Next Video: My invention of the orgone generator®
Although he introduced new scientific concepts to explain life force, or orgone energy, as he called it, Wilhelm Reich had no idea that orgone energy can be generated. In fact, in his publication "cosmic orgone engineering" (CORE) Wilhelm Reich claimed that UFO's came to this planet to "steal" orgone energy. This is similar to the claim of some conspiracy-aficionados of the past that UFO'S visited this planet to steal gold. A closer look at the many claims of those conspiracidiots change over time, fitting nicely the whims and fashions of pop-science of the time when such works are written, mostly to make gains of all kinds from spreading misinformation. Those good folks did not know that this mineral (gold) is abundant on meteorites, planetoids, etc., where it is much easier to harvest, as little as Reich had any idea that orgone can be generated.
Statements of this kind and others throughout his writings give us the impression that Wilhelm Reich did not even think of the possibility to actually generate orgone energy.
For my invention of the orgone generator®, I have to give credit to three persons: Franz Anton Mesmer, Baron Karl von Reichenbach and Wilhelm Reich, of course. When examining Franz Anton Mesmer's "magnetizing" methods, I realized that this method does not transfer "animal magnetism" from the magnetiseur. The "magnetiseur" is the person practicing the Mesmer passés, i.e., moving the hands along the body, about one inch distant. In fact, with this practice new orgone energy is generated. I was also aware that since ancient times some shamans, magicians or spiritual workers generated orgone energy by rotating their hands relative to each other. For the first time I saw this method, of which I was already familiar, practiced in a small Baptist church, where the preacher taught several practices of "spiritual work." Karl von Reichenbach's work in which he examined the connections between magnetism and life energy (Od or orgone) was a crucial help as was the structure of the Reichian orgone accumulator, which was more evolved than Mesmer's barrels that were filled with iron filings.
In my work at a distance (some call it magic), I realized that such action was possible as a result of the creation of a strong field of orgone energy (Chi, Od, mana, prana, etc.) and its sudden shift. Spiritual workers and magicians of the old, shamans, priests, etc., achieved this with the help of a wide variety of methods: At first methods are used to accumulating orgone energy: either by drawing it in one's body, generating it by dancing or with high emotional outbursts, with methods of sexual magic, all the way to killing animals. The next step was always to direct this orgone energy - consciously or non-consciously (usually following some "ritual" that works, and the function of which the practitionner does not necessarily need to understand) and directing the orgone that has been generated towards the envisioned goal.
This gave me the idea of building a device that accumulates orgone energy and shifts it: This was a simple orgone wand around which I wound a coil of copper wire. Sending DC through that coil made it into a magnet and polarized the orgone field. Turning the current off shifted the orgone field back to "normal."
The next step was to build two coils of this type around two wands, one inside the other, and the coils were connected in such a way that they always had opposite polarity. Sending a slow electric pulse through the coil shifted the magnetic fields back and forth, with this the orgone fileds shifted, and new orgone was generated. I finally had a device that was independent from the amount of orgone energy in the surrounding atmospehre and which, in fact, generated new orgone energy. This was the first orgone generator® on our planet (left). In fact, this was a quite powerful device!
Then I built two types of orgone generators®: one of them worked on mechanical principles, while the other one was based on shifting magnetic fields, as described above. I used the structure of Wilhelm Reich's orgone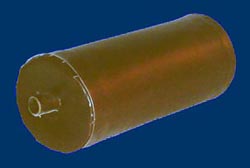 accumuator, i.e., alternating layers of organic anc metallic materials, to attract an initial charge of life force and to build up strong fields of it. The stronger the supplying orgone accumulators are, the stronger is the output of the orgone generator, of which they are part. The magnetic generator proved to be much more effective than the purely mechanical one. The first orgone generator on the market (in 1992) was a cylinder, about 4 inches diameter and 12 inches long, with a pipe going through it, and the orgone accumulators were made with layers of organic and metallic materials, fiber glass and steel wool, similar to the orgone accumulators of Wilhelm Reich.
Click Here for the Next Video: My invention of orgonite®
Less than one year after I invented the orgone generator, in 1992, I invented a much more effective orgone accumulating material, which I gave the name "orgonite®." Its basis is a mixture of an organic material with metal dust, which basically compares to an orgone accumulator with hundreds of layers. The finer the dust, the more layers there are. Wilhelm Reich pointed out that the amount of layers determines the power of an orgone accumulator. As an organic material I used polyester at first, then epoxy. Any organic material will do, of course, and personally I really like bees wax. With time, I added more materials to this basic mixture, making orgonite® increasingly effective, which eventually evolved into today's super-orgonite®. The formulas of these mixtures remain proprietary and I certainly enjoyed giving false information to people who, faking an attitude of "being nice," made every attempt to pry this secret from me.
Click Here for the Next Video: To patent or not to patent my inventions was the question
From the word go I decided not to patent my inventions, for fear that, being a controversial technology, I may be forced to sell it to some folks unknown and then nobody can build the devices commercially any more. I was well aware that the devices will be copied sooner or later, and I sincerely hoped that among those copy cats are folks who are creative on their own. I like the contact with other inventors and creative people in the field. In fact, a couple of them who contacted me have shown some remarkable creativity on their own. That's the way science can progress, and I am expecting great innovations from inventors to continue with this work. Of course, as is the case with any innovation, there are others whose only skill consists in stealing other peoples' ideas. Some of them are so stupid that they did not even come up with their own designs.
Neo-Reichian epigones still staunchly deny that orgone can be generated. In fact, right from the beginning there was never much love lost between me and those folks, since I dared to invent a device that actually generates orgone energy. In addition to that "insult," I also promoted the first devices almost exclusively for magical purposes, not for "healing," which, considering the controversiality of the technology, was a wise step for me to take, as I found well confirmed later. One mention on one of their sites of how much cheaper the obsolete orgone accumulators, orgone blankets and orgone "shooters" actually are, gave me truly a very healthy laugh. As far as cheap, go on the net and compare prices. And then, when someone travels say, from New York to Los Angeles, he or she can either get an airplane ticket, use a car, or purchase a "good ole pair of shoes," which certainly is cheaper, a lot cheaper!